Tonsil® Supreme Bleaching Earth
EDIBLE OIL PURIFICATION THAT DOESN'T COST THE EARTH
Sustainability has become increasingly important for edible oil producers. But the pressing question is how to continue to provide high quality while minimizing the environmental impacts of production.

One place to look for answers is in purification. Bentonite-based bleaching earth is essential for removing undesired substances and impurities from edible oil, but after the purification process, too often it ends up in landfills.

What if you could purify with less clay and thus less waste? Now you can – with Clariant's next-generation high-performance bleaching earth, Tonsil® Supreme.
A Win, Win, Win for Producers

LESS CLAY, LESS WASTE, MORE OIL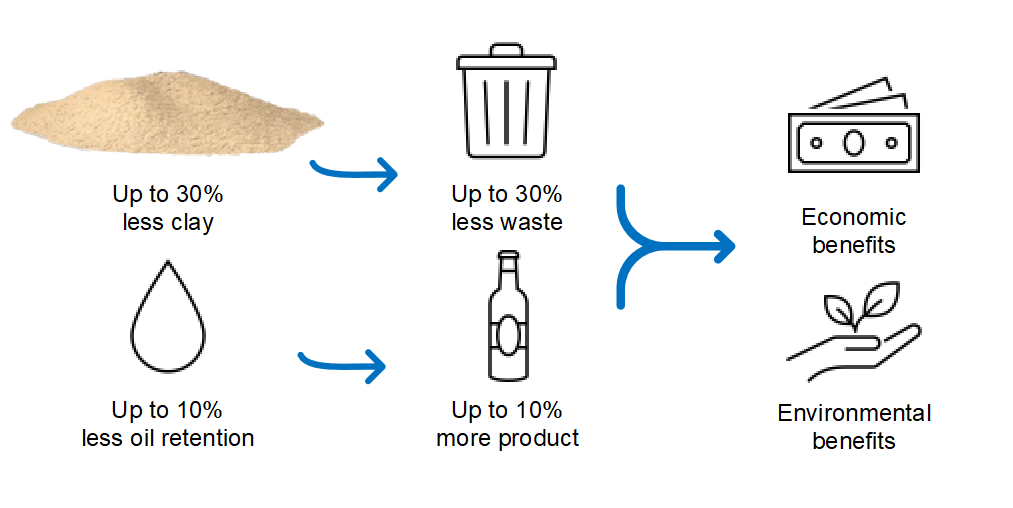 Due to its outstanding activity, Tonsil® Supreme achieves high purity with considerably less clay than with past generations. In commercial application, a Clariant customer who switched to Tonsil Supreme reported using up to 30% less clay than with the previous adsorbent they had used. Less clay not only means less waste, but also significantly lower costs for its disposal. And there's more. Tonsil® Supreme retains significantly less oil during the purification process – approximately 10%. This is a major increase in yield – and consequent profits – for producers. Most importantly, the new bleaching earth requires no change to the purification process, so no additional costs result from its use.
Saving Costs and the Planet

TOTAL COST OF OWNERSHIP

In edible oil purification, the total cost of ownership depends on reaching the right balance between bleaching earth activity and filtration performance. When comparing different clays, the most important factors to consider are the costs of the adsorbents, oil retention, and disposal. As the soybean oil and canola oil case examples show, despite its nominally higher price per ton, Tonsil® Supreme can help producers generate significant annual savings, mainly due to its drastically lower material usage and reduced oil retention.


Source: Clariant Internal testing
The Proof is in the Product

PERFORMANCE PLUSES OF TONSIL® SUPREME

While sustainability is essential, it shouldn't come at a cost to quality. It certainly does not with Tonsil® Supreme. Compared to past generations, the high performance bleaching earth excels in all aspects of purification, including bleaching, deodorization, and impurity removal. No matter what features are assessed, Tonsil® Supreme proves its superiority for producers and the planet alike.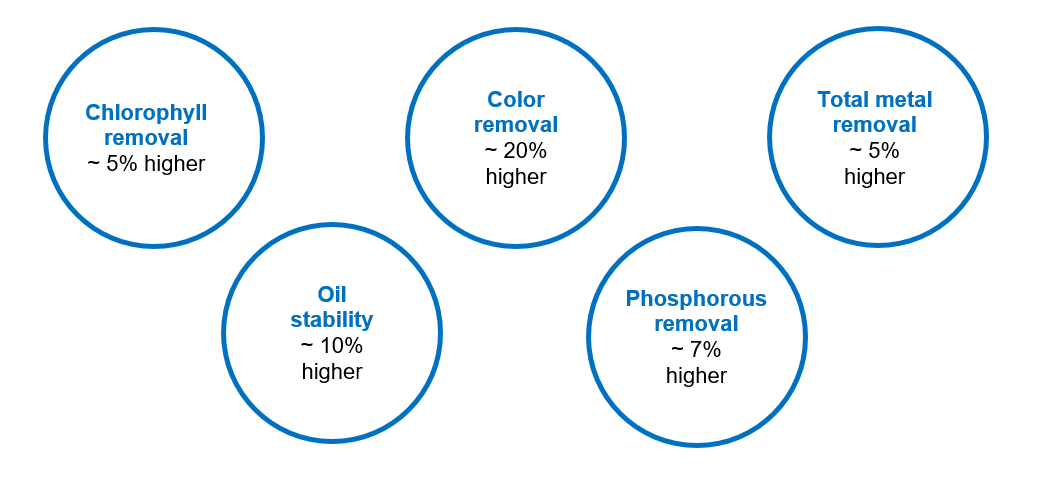 Source: Clariant Internal testing