Genapol® Complete is our contribution to a more ethical and eco-friendly home care industry. Our vegetal-origin non-ionic surfactant achieves excellent rinse and drying performance in automatic dishwashing detergents, guaranteeing cleaner machines and substantial CO₂ product footprint savings.

Genapol® Complete can be used in any environmentally friendly dishwashing detergent, significantly contributing to mitigating climate change without compromising on performance and cleanliness. With the sustainable background ecolabels require, Genapol® Complete is an excellent all-around rinse and drying surfactant with a higher bio-content and a lower carbon footprint than other rinse surfactants in the market.

In addition, Genapol Complete avoids one of the main drawbacks of the current top performers – it reduces fatty residue build-up in the machine significantly. A comprehensive answer to the challenges of today, our non-ionic surfactant is a core ingredient of all-in-one dishwashing detergents, both sustainable and effective, a low-foaming surfactant for high-performance formulations.
Benefits of Genapol® Complete
Excellent rinse performance
Very good overall drying performance
Significantly reduced fatty residues in the machine
Anaerobically biodegradable and partially of natural origin
Substantially lower product carbon footprint than alternatives
Outstanding compatibility with environmental labels
Excellent rinse performance
Effective rinse performance is crucial for clean and shiny dishes. Genapol® Complete offers improved sustainability with the same dishwashing performance when tested at 4% in a phosphate free powder. Our sustainable surfactant performs on par with the best alternatives regarding rinsing and drying. In addition, it helps to maintain the cleanliness and performance of dishwashers.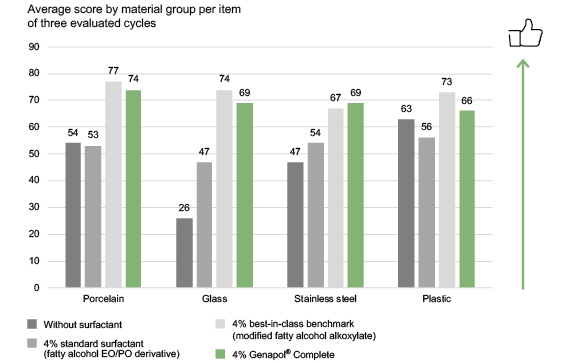 Excellent drying performance
Genapol® Complete guarantees excellent results in spotless drying, a key performance indicator. Clariant tested the Genapol® Complete with 4% surfactant in phosphate-free powder.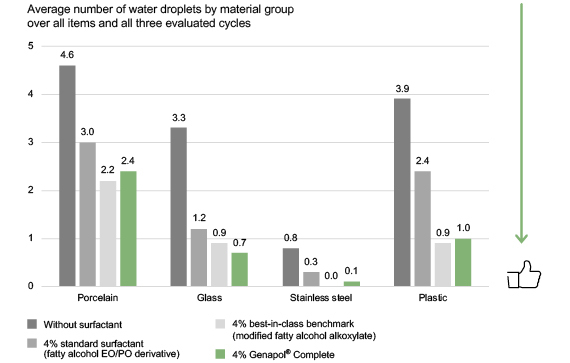 Significantly reduced fatty residues
Lastly, Genapol® Complete prevents fatty residues from accumulating on dishes or in the dishwasher. Based on results from a grease build-up test at low temperatures (45°C), Genapol® Complete significantly reduces fatty residues.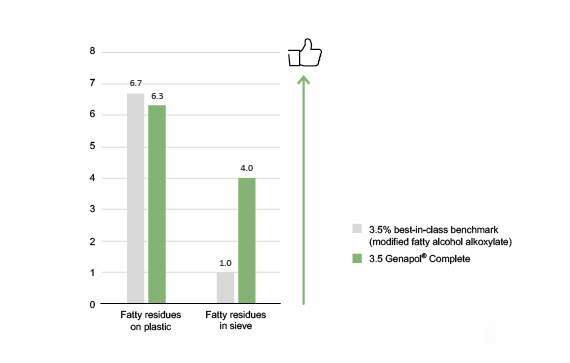 Compatibility
As a non-ionic surfactant, Genapol® Complete can be combined with other non-ionic, anionic, and cationic substances. The possible turbidity of aqueous solutions does not affect the performance of the product.
The sustainable perfomer for shiny dishes – Genapol Complete

32% vegetal origin
(coconut derivative)

Up to 59% carbon footprint
reduction compared with
conventional alternatives

Anaerobically
biodegradable

Compatibility with
environmental labels
Any questions? Get in contact