Meet the cleaning ingredient
that reduces cleaning time
Everybody has that one special friend who says he or she loves housecleaning, but most of us can definitely think of better ways to spend our time. Like taking a nice walk, reading a good book – or attending a climate rally to save the planet.

Unless you're a special case, Vincent Gass and Dr. Hannah Benson's home care teams have just made your life a whole lot easier. By developing an ingredient for cleaners that coats surfaces with a film, they've managed to help protect surfaces against lime scale, water marks, and other time-consuming evils.

Read this interview with Dr. Benson and Mr. Gass to learn how Aristocare™ Smart works – and why it is a much smarter solution for our weekly scrubbing duties. Unless, of course, you really are that special case, and don't like to see your fun spoiled by a clever new home care ingredient.

»At Clariant, we were aware of a need for ingredients that would help reduce the time and effort spent on cleaning. Our solution was to develop a high-performance, multi-benefit polymer that didn't just deliver superior results but would keep surfaces cleaner for longer.«

This interview was first published in SOFW's May 2019 issue.

Mr. Gass, a German proverb says: "Time is money". What connection is there to Clariant's recent launch of a new multi-purpose polymer?

VG: While this old adage certainly rings true in many instances, our focus when developing Aristocare Smart was more around enabling consumers with increasingly busy lifestyles to reduce valuable time spent on household cleaning so they could spend it on more meaningful pursuits. Most of us regard household cleaning as a necessary evil – we all like to live in clean and hygienic surroundings so dedicate considerable effort in making them so, with 47% of us undertaking house cleaning weekly, 30% doing it several times a week and 10% of us cleaning on a daily basis. While there is undoubtably a sense of satisfaction and confidence in creating a clean and healthy environment, there's no doubt that it comprises of time-consuming and often tedious tasks. Despite advancements in household care products over recent years, at Clariant we were aware of a strong need for cleaning products informed by the latest in chemical innovations that would genuinely reduce the time and effort spent on cleaning tasks. Clariant's solution was to develop a high performance, multi-purpose hydrophilic polymer – Aristocare Smart - that didn't just deliver superior results but would keep surfaces cleaner for longer.

Besides the time saving benefit, what other benefits does Aristocare have?
VG: A key attribute of Aristocare Smart is that it can be confidently used across a broad pH range and on a variety of hard surfaces such as ceramics, glass, and stainless steel, so it is suitable for most cleaning product formats. This includes all-purpose cleaners which can reduce the number of household care products that need to be stored. As well as time, space is also often at a premium for most of us. Cleaners incorporating this novel polymer effortlessly combat soap scum and lime scale build up, and significantly reduce spotting and streaking from product and water residue. Once a soiled surface is wiped with a cleaner containing this unique polymer, it is imbued with a dirt repellency effect. Additionally, Aristocare Smart improves homogeneous cleaner distribution which provides orderly reflection of light and ultimately a brilliant shine.

Dr. Benson, how are these qualities achieved?
HB: Aristocare Smart forms a thin film on surfaces to which it is applied. It smooths the surface, preventing water droplets and soil from "sticking" to the surface. Aristocare Smart also hydrophilizes surfaces and thus enables faster and more even water drainage. The product creates a watersheeting effect and leaves less water residue on surfaces, meaning that there is less spotting once dry. The novel polymer allows long-term hydrophilization of surfaces even after consecutive rinses with tap water, without leading to long-term build-up.

How did you prove these effects?
HB: Surface adhesion of the polymer at broad pH and the formation of a monomolecular layer on hard surfaces was measured by QCM-D (Quartz-Cristal Microbalance with Dissipation Monitoring). Using contact angle measurements we could demonstrate the hydrophilization effect of the product. Aristocare Smart was rigorously tested for its performance to combat soap scum, lime scale prevention, fast water drainage and its anti-streaking properties in application tests. For this purpose 0.2% Aristocare Smart was added to both bathroom and all-purpose cleaners and was tested against the same cleaners without Aristocare Smart.

To test effectiveness against soap scum, a bathroom cleaner containing Aristocare Smart was applied to one half of a black ceramic bathroom tile and also onto tempered shower glass. The other halves were applied with the same cleaner but without the polymer additive. Once dry, soap scum was also applied and then heated to 'bake' and harden the scum. Once cooled to room temperature, both the tile and tempered glass were rinsed with water. Results were markedly different, with the area of tile and glass treated with the cleaner containing Aristocare Smart showing dramatically less soap scum compared to the areas treated with the cleaner without the polymer additive.
The test procedure to assess Aristocare Smart's anti-streaking abilities was similarly conducted using both bathroom and floor tiles as the test subjects. Bathroom-specific and all-purpose cleaners – with and without Aristocare Smart – were applied and allowed to dry. The tiles were then carefully compared and given a visual evaluation rating. Results were impressive, with tiles treated with Aristocare Smart exhibiting substantially less streaking.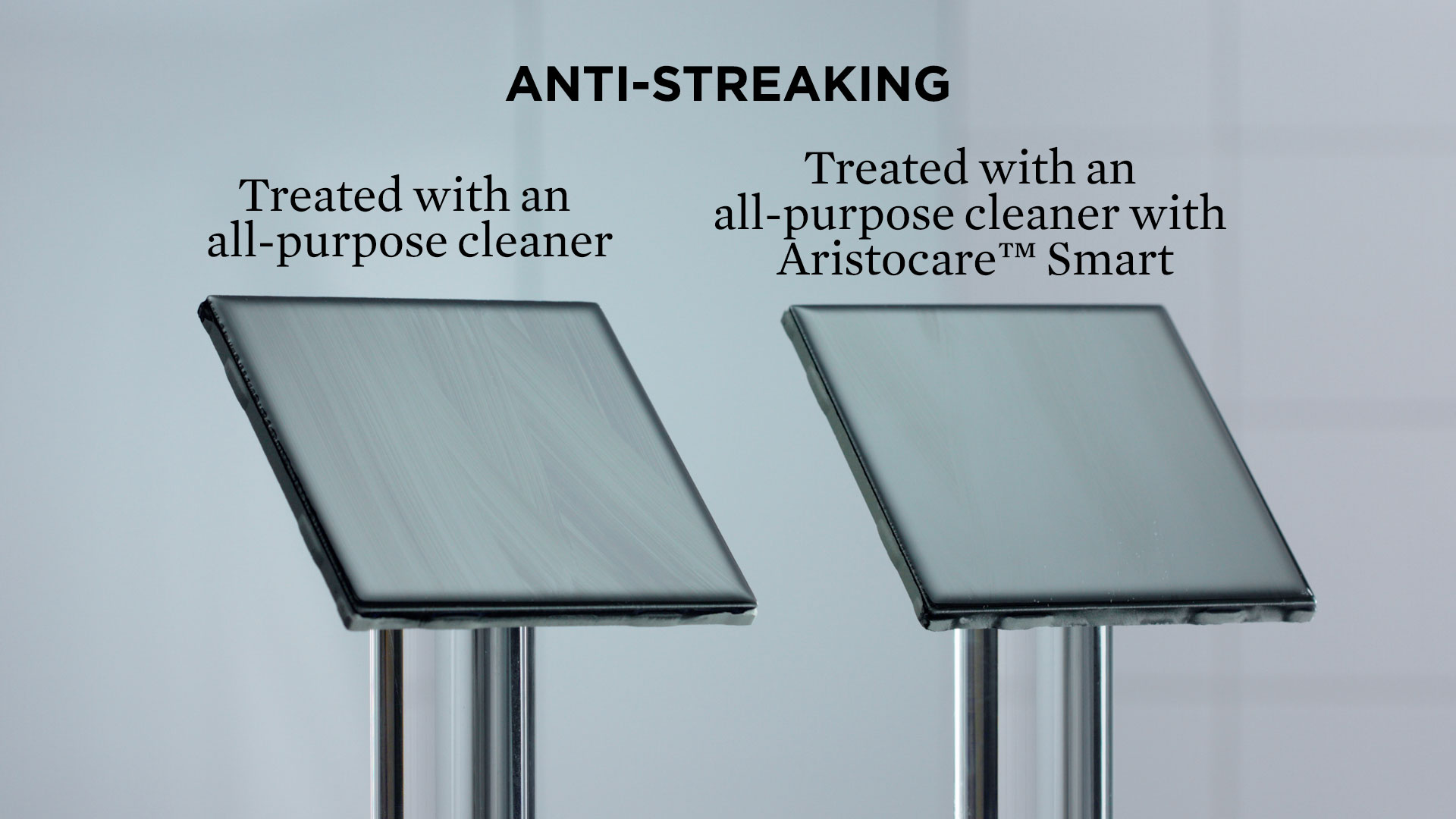 To evaluate Aristocare Smart's impact on water drainage, again, cleaners with and without the polymer additive were applied to ceramic tiles, stainless steel, and glass surfaces as well as shower heads. Once dry, they were rinsed with water and the drainage time was monitored. Again, results were striking, with water draining from the surfaces treated with the cleaner containing Aristocare Smart taking significantly less time than with the other cleaners. For example, water drainage with the Aristocare Smart cleaner only took a sixth of the time in the case of ceramic tiles. Moreover, this effect lasted up to 8 rinses.

The test to determine the polymer's effect on combatting lime scale was also based on visual evaluation ratings. Again, bathroom cleaners with and without Aristocare Smart were applied to black ceramic bathroom tiles and glass. This was followed by repeated applications of hard water and drying time, with a visual evaluation rating given for lime scale build-up. As with the other tests, the cleaner containing the Aristocare Smart polymer was seen to be highly effective.

Within what pH range is this polymer stable?
HB: The Aristocare Smart polymer has stability within a broad pH range from pH1 to pH12.

What cleaners can this product be used in?
HB: As the polymer is stable across such a broad pH range and is compatible with cationic, non-ionic and most anionic surfactants, it is highly versatile and can be incorporated in both traditional and more environmentally friendly household cleaning products ranging from bath and toilet cleaners to those for the kitchen and all-purpose cleaners. Aristocare Smart is a powerful additive with benefits demonstrated even at low levels – between 0.05 and 0.2%. It is delivered as a low-viscosity aqueous solution convenient for household cleaning producers.

Mr. Gass and Dr. Benson, we hope that you receive much applause from consumers for the time savings and other benefits you are making possible with Aristocare Smart.
VG: Thank you. We at Clariant are very proud of our latest home care innovation. It will deliver never seen before gains in efficiency in terms of household cleaning – both for consumers and producers.