FLOTICOR PA 8000 Increases Iron Content and Reduces Binder and Silica Levels in Iron Ore Pellets
The Bottom Line
The use of FLOTICOR PA 8000 pelletizing additive in the production of iron ore pellets for one producer results in…
A 70% decrease in bentonite binder
The ability to source minerals with up to 10% more naturally occurring silica, while reducing SiO2 and Al2O3 impurities
Increased iron content in each pellet after heating
Maintaining standard pellet compressive strength and abrasion quality
Objectives
An iron producer uses bentonite as its primary binding agent for production of its high quality direct reduction pellets. While bentonite is one of the most common binders for the production of pellets, it contains a number of impurities – including 60% silica – which can lower pellet grade.
Clariant chemists were approached by a pellet producer to reduce the level of bentonite used in the pelletizing process, and, as a result, the level of impurities.
The producer established a difficult-to-achieve silica content target of less than 2% for the high quality direct reduction pellets. Clariant chemists experimented with replacing most of the bentonite binder with FLOTICOR PA 8000, which would offer a reduction of the silica introduced in the pelletizing process and give the producer more flexibility in the minerals sourced for the high quality pellet.
Beyond reduction of silica content, the producer sought to maintain current quality standards with regards to abrasion and burned pellet compressive resistance.
Background
Similar to global iron ore reserves, which are trending toward higher percentages of silica, the iron ore deposits mined in this region consist of up to 40% naturally occurring silica.
Steel producers require a high quality iron ore containing less than 2% silica content for their direct reduction pellets. Achieving this percentage is very difficult, requiring a reverse flotation process to purify the ​​concentrate. Clariant previously partnered with the customer to optimize this process using custom collectors.
Because of its low cost and superior binding characteristics, bentonite is widely recognized as the binder of preference for the production of direct reduction pellets. With its 60% silica content, however, bentonite adds silica and other impurities to the pellets, leaving producers no option other than to source the highest quality iron ore from the concentration process.
A pellet producer approached Clariant for a solution to reduce the amount of bentonite required to make its direct reduction pellets. The two companies recently collaborated on a successful pilot test of Clariant's FLOTICOR PA 8000 pelletizing additive to improve the binding characteristics of furnace pellet production.
Clariant chemists developed a specialized organic binder that was designed to replace a percentage of the bentonite binder to reduce the silica content. FLOTICOR PA 8000 does not contain silica and exhibited exceptional binding qualities in the blast furnace pellet tests. Test results were analyzed to determine if FLOTICOR PA 8000 reduced pellet silica content to give the producer flexibility in sourcing lower quality iron ore for making its high quality direct reduction pellets. The lab test results were then confirmed in the customer's pilot plant.
Actions
The producer's standard production process of direct reduction pellets required 5 to 6 kg of bentonite per ton of iron ore. Bentonite binder containing 60% silica was used in the pelletizing process, so each kilogram of bentonite added 0.06% silica to the pellet feed.
With the goal of not completely eliminating the bentonite binder, the direct reduction pellet pilot test lowered the amount of bentonite to 1.5 kg per ton of ore and added 0.5 kg of FLOTICOR PA 8000 per ton of ore. This represented a 70% reduction in the amount of bentonite and, subsequently, a 0.21% reduction of silica used in the pellet production process.
FLOTICOR PA 8000 was incorporated in liquid form just before the mixer in the pelletizing process. The reduced bentonite binder dosage was added in the mixer, similar to how it was added when used at full strength. Upon completion, the pellets were then analyzed for green and dried resistance, abrasion and burned resistance.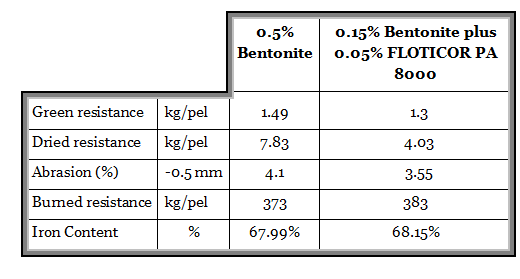 Results
By incorporating a low dosage of Clariant's FLOTICOR PA 8000 additive to replace the high percentage of bentonite, technicians lowered silica levels in the production of direct reduction pellets. This gives the producer more grade options for sourcing minerals for pellet production. In addition to reducing silica content, FLOTICOR PA 8000 also maintains pellet quality targets.
For the production of direct reduction pellets, FLOTICOR PA 8000 is proven to...
Reduce the bentonite binder by 70%
Lower silica impurity content added through the pelletizing process by 0.21%
Allow the producer to source minerals with up to 10% more naturally occurring silica
Maintain pellet quality standards in terms of compressive strength and abrasion
Increase the pellet iron content, which improves the sales price for the pellet
This information corresponds to the present state of our knowledge and is intended as a general description of our products and their possible applications. Clariant makes no warranties, express or implied, as to the information's accuracy, adequacy, sufficiency or freedom from defect and assumes no liability in connection with any use of this information. Any user of this product is responsible for determining the suitability of Clariant's products for its particular application.*Nothing included in this information waives any of Clariant's General Terms and Conditions of Sale, which control unless it agrees otherwise in writing. Any existing intellectual/industrial property rights must be observed. Due to possible changes in our products and applicable national and international regulations and laws, the status of our products could change. Material Safety Data Sheets providing safety precautions, that should be observed when handling or storing Clariant products, are available upon request and are provided in compliance with applicable law. You should obtain and review the applicable Material Safety Data Sheet information before handling any of these products. For additional information, please contact Clariant.
*For sales to customers located within the United States and Canada the following applies in addition: NO EXPRESS OR IMPLIED WARRANTY IS MADE OF THE MERCHANTABILITY, SUITABILITY, FITNESS FOR A PARTICULAR PURPOSE OR OTHERWISE OF ANY PRODUCT OR SERVICE.
Copyright © Clariant International Ltd, 2013.