2012年12月14日
Clariant Oil Services Improves Separation Performance in Russian Oil and Gas Facility
Benefits
Consistent achievement of export crude specification
33% Reduction in chemical dose rate, resulting in savings of $200,000 per year
40% Reduction in oil-in-water, resulting in an additional 2,000 bpd of oil
Background
A major oil and gas producer in the Eastern Siberia region of Russia had been experiencing operational difficulties around crude dehydration and was not able to regularly meet the crude export specification. Typical production rates were 105,000 bpd of 35o API crude, together with 20,000 bpd of produced water. The produced fluids are processed through two trains, each including heaters and 3-phase separators, before combining at a separation unit and routing to the export reservoir. The inlet temperature ranges from 0°C to 5°C and rises to 45°C during processing. The target export crude water content is 0.05%.
The incumbent demulsifier was injected at approximately 60 ppm upstream of the separation trains and upstream of the separation unit. The production operators were required to significantly change the demulsifier dose rate on a regular basis in order to try and achieve the export water specification. In addition to the dehydration difficulties, the produced water quality was very poor and exhibited very high oil content.
Clariant Oil Services Solutions and Value Delivered
Clariant Oil Services has extensive experience treating low temperature crude oil so, in conjunction with the operator, fluid separation experts were mobilized to the field to perform bottle tests to screen potential candidate products. DISSOLVAN 5910 was developed by Clariant Oil Services specifically for this application, and after a successful field trial was deployed on a continuous basis.
DISSOLVAN 5910 has since been optimized in the field and is currently deployed at approximately 40 ppm, which is a 33% reduction in dose rate compared to the incumbent. This reduction has generated significant annual savings for the operator. Additionally, the stability of the process plant has improved since DISSOLVAN 5910 was deployed, and the improved crude dehydration has enabled the export water specification to be consistently achieved. In fact, the produced water quality has shown a 40% reduction in oil-in-water, which contributes an additional 2,000 barrels of oil per day for export.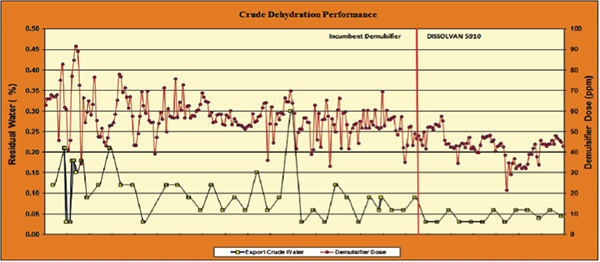 This information corresponds to the present state of our knowledge and is intended as a general description of our products and their possible applications. Clariant makes no warranties, express or implied, as to the information's accuracy, adequacy, sufficiency or freedom from defect and assumes no liability in connection with any use of this information. Any user of this product is responsible for determining the suitability of Clariant's products for its particular application. *Nothing included in this information waives any of Clariant's General Terms and Conditions of Sale, which control unless it agrees otherwise in writing. Any existing intellectual/industrial property rights must be observed. Due to possible changes in our products and applicable national and international regulations and laws, the status of our products could change. Material Safety Data Sheets providing safety precautions, that should be observed when handling or storing Clariant products, are available upon request and are provided in compliance with applicable law. You should obtain and review the applicable Material Safety Data Sheet information before handling any of these products. For additional information, please contact Clariant.
*For sales to customers located within the United States and Canada the following applies in addition: NO EXPRESS OR IMPLIED WARRANTY IS MADE OF THE MERCHANTABILITY, SUITABILITY, FITNESS FOR A PARTICULAR PURPOSE OR OTHERWISE OF ANY PRODUCT OR SERVICE.
Copyright © Clariant International Ltd, 2012.