PHASETREAT 7623 Resolves Stabilized Emulsion and Reduces Oil-in-Water Discharge by 36%
Benefits
Stabilized emulsion layer removed from separator, eliminating the need to regularly skim the vessel
Improved environmental profile via 36% decrease in oil discharge
Hydrocyclone uptime doubled through reduction in soft-scale build-up
Background
An offshore oil production facility in the Norwegian North Sea experienced crude oil separation challenges and poor water quality as a result of operational changes. The changes reduced the residence time in the separator and, consequently, a stabilized emulsion layer built up, which could only be removed through regular skimming operations.
| | |
| --- | --- |
| Oil Production Concentration | 22,000 bpd |
| Water Production | 140,000 bpd |
| Process Temperature | 75°C |
| Crude API | 39.1° |
The process system is a 4-stage separation train with coalescer and demulsifier is injected upstream of the HP and LP separators at 5 ppm. Produced water removal is from the HP and LP separators.
Clariant Oil Services was asked to recommend an environmentally-acceptable replacement demulsifier to resolve the stabilized emulsion.
Innovation and Value Delivered
Fluid separation specialists from Clariant Oil Services were mobilized to the facility to perform extensive laboratory evaluations. The tests were devised to determine the root cause of the emulsion, followed by the formulation of new products to be tested in comparison to the incumbent.
Samples from the interface of wellhead samples indicated that the emulsion was stabilized by oil-wet iron sulfide solids. The formulation work focused on altering the wettability of the solids to remove them from the interface. PHASETREAT® 7623 showed superior performance over the incumbent and was recommended for field trial.
Upon application, crude dehydration remained within specification at 0.1%, skimming was not required and discharge oil-in-water reduced from 14 mg/l to 9 mg/l. PHASETREAT 7623 also improved the uptime of the hydrocyclones by reducing soft-scale build-up and consequential cleaning.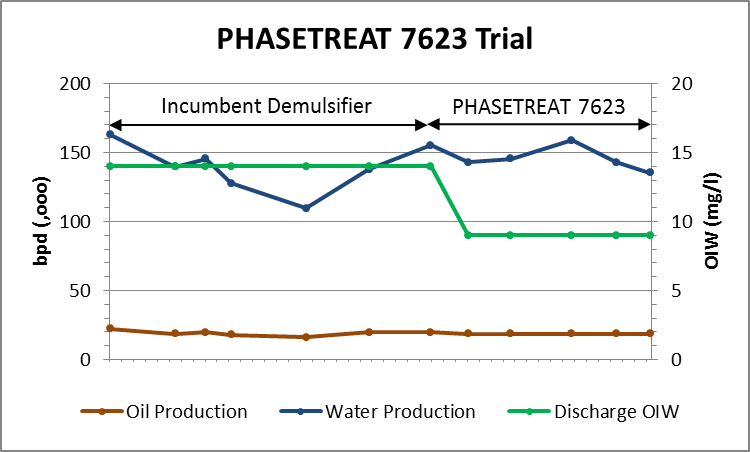 This information corresponds to the present state of our knowledge and is intended as a general description of our products and their possible applications. Clariant makes no warranties, express or implied, as to the information's accuracy, adequacy, sufficiency or freedom from defect and assumes no liability in connection with any use of this information. Any user of this product is responsible for determining the suitability of Clariant's products for its particular application.*Nothing included in this information waives any of Clariant's General Terms and Conditions of Sale, which control unless it agrees otherwise in writing. Any existing intellectual/industrial property rights must be observed. Due to possible changes in our products and applicable national and international regulations and laws, the status of our products could change. Material Safety Data Sheets providing safety precautions, that should be observed when handling or storing Clariant products, are available upon request and are provided in compliance with applicable law. You should obtain and review the applicable Material Safety Data Sheet information before handling any of these products. For additional information, please contact Clariant.
*For sales to customers located within the United States and Canada the following applies in addition: NO EXPRESS OR IMPLIED WARRANTY IS MADE OF THE MERCHANTABILITY, SUITABILITY, FITNESS FOR A PARTICULAR PURPOSE OR OTHERWISE OF ANY PRODUCT OR SERVICE.
Copyright © Clariant International Ltd, 2013.